After Losing Husband and Partner, Kaiser Keeps Auto Repair Business Open | Community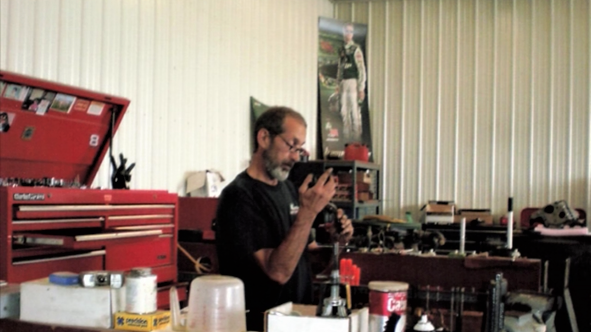 Rob Hillesland Summit-Tribune

In the few weeks since the death of beloved Forest City auto mechanic Mark Kaiser, customers have increasingly called his wife and longtime business partner, Marilyn Kaiser, to ask "are you always open ? "
Kaiser Auto Repair remains open, with Mark having trained Jim Schaumberg, the part-time mechanic who worked there for several years under Mark's supervision.
Marilyn and her daughter Melissa Nelson both said the family are delighted that Schaumberg will stay and help keep the business going.
"Dad had been struggling with health issues the last few years, but he supervised him and talked to him about things," Melissa said.
"This shop was her life," said Marilyn. "I want to continue because it was our heritage. Mark was at the store until the end, but had to have another person working there.
Marilyn is the face of the business, answering phones, making appointments, ordering and receiving coins, paying bills and balancing financial books, in addition to being a business owner.
Kaiser Auto Repair offers a full range of vehicle maintenance and repair services. Current hours of operation are 1 p.m. to 5 p.m. Monday to Friday.
Marilyn said it was an easy decision to continue the business. She said that's what Mark would want and that she appreciates the job of running the business.
"We will continue as long as possible," she said. "People who knew Mark know me too. Mark was a very honest person who loved all of his clients, and so did I. They are the best. We treat them like family.
Mark and Marilyn were married for 43 years after a three-year courtship. He worked as an auto mechanic as long as they were married. He moved from Allison to Forest City, where he met Marilyn, a native of Lake Mills and a graduate of Lake Mills High School.
Mark graduated from Forest City High School and worked for Farmer's Cooperative in Forest City before working for a Chevrolet dealership in Buffalo Center and another Chevy dealership in Forest City for 25 years.
Mark and Marilyn started Kaiser Auto Repair in 2006 after buying the property and building the metal repair shop at 1135 Highway 69 at the south end of town.
Mark died of blood clots on March 6. Subsequently, Marilyn, with Schaumberg's help, quietly pursued the affair.
"He loved getting to know and working with his clients," Melissa said of her father. "The business really grew quickly because a lot of his loyal customers followed him there because they wanted him to continue working on their cars. He always dreamed of opening his own store. So, we really want this to continue for as long as possible. "
Marilyn and Mark's other children are Tina Badker from Clear Lake, Shelly Skjeie from Forest City, Mike Kaiser from Forest City and Amanda Cohrs from Spring Valley, Illinois. Melissa lives in Thornton.
Marilyn said she had fond memories of Mark and Mike working on cars. She said when Mike was young he raced RC cars with Mark fixing them and getting them ready for racing.
More recently, Mark enjoyed working on Mike's 1972 Chevelle, including dropping a bigger engine in it, and then an even bigger engine because Mike wanted more power.
"Mark finally heard this engine running the day before he died," said Marilyn. "He loved the job.
Rob Hillesland is community editor for the Summit-Tribune. He can be reached at 641-421-0534, or by email at [email protected]