New faces, old friends, great service at Webster Groves Complete Auto Repair | Webster Kirkwood Times
2021 is a year of growth for Webster Groves Complete Auto Repair. With the arrival of new Service Manager Scotch McDonald, founders and owners Scott Pfitzinger and his father, Jerry Pfitzinger, have been able to step back from operations and spend more time visiting customers on a daily basis.
"I am very proud to say that I have four generations of customers who still call me their 'car boy' and we welcome new customers every day to 'The Pfitz Fam'. Thank you old and new for keeping our business alive, "said Scott Pfitzinger.
Like Scott, Scotch speaks in terms the average person can understand. It helps customers understand exactly what their vehicles need now and what they will need in the near future. Scotch leaves no room for confusion as to the cost of such maintenance or repairs, and customers will never be faced with unprofessional sales pressure.
"We couldn't be happier to have him on staff," said office manager Jane Hohlstein.
Another novelty, the technician Kimberly Acquilano. Experienced in diagnostics and electrical work and a licensed Missouri inspector, Kimberly is an asset that Webster Groves' full auto repair team considers themselves lucky to have.
Patrick Panhorst and Robert Humpert remain on staff to support clients with their expertise.
Jerry Pfitzinger, the man who started it all, still comes every day to keep Jane online and consult on classic cars.
The store strives to provide customers with a stress-free experience and peace of mind, using only reputable brand name parts and offering 24-month service guarantees.
Over the years, Webster Groves Complete Auto has evolved over time, moving out of Pfitzinger's comfort zones to launch a Facebook page and Google advertising.
"Very nice people and wonderful, affordable service," wrote customer Laurel Burnette. "I brought my car there for maintenance today and will continue."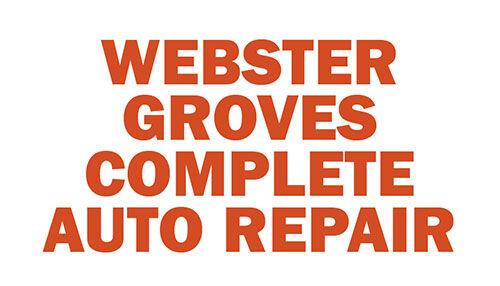 2 S. Old Orchard Ave. • Webster Groves • 961-2728
www.webstergrovesauto.com